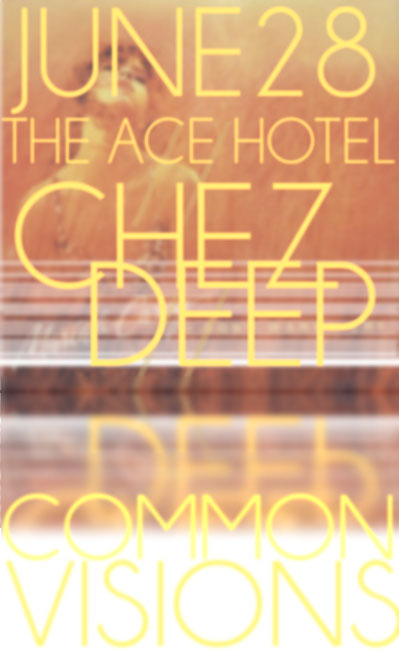 A performance ritual conceived for the Ace Hotel's NYC LGBTQ* Pride celebration, 2013, starring Sam Banks, Hari Nef, Alexis Penney, Colin Self, Bailey Stiles, featuring Mss Vee and Domonique Echeverria, hosted by Linda Simpson. Shot by Tony Lowe. Edited by Drew Bolton.

"HOW DOES HER IDENTITY DEFINE THE WAY SHE PERFORMS?

HOW DOES SHE LET HER INNER LIGHT SHOW?

HER IDENTITY AS A PERFORMER IS CREATED THROUGH YEARS OF INTRINSIC STIMULATIONS WOVEN TOGETHER WITH MEDIA, DIALOGUE AND ORGANIC EXPERIENCE. HER STRENGTH AS A VESSEL OF UNIVERSAL ENERGY GUIDES HER INTO DECISIONS WITH THE ATTENTION OF A HIGHER VIBRATION. THE EXPECTATIONS OF HER PERFORMANCE ARE THOSE OF A GOLDEN THREAD WOVEN INTO THE WEFT OF AN ANCIENT CEREMONIAL TAPESTRY, GUIDED BY NEW AND TRANSCENDENT REVENANT TECHNOLOGIES. HER INTERFACE IS BODY AND VIBRATION.

A SHORT BUT LOADED HISTORICAL CONTEXT OF WOMEN AND THE OBJECTIFICATION OF THEIR BODIES FOR ENTERTAINMENT AND POWER IS EXTANT. EXTERNAL EXPECTATIONS ARE FLUID, RADIAL VARIATIONS OF ENERGY, AND SEEK TO BE TRANSGRESSED BY A NEW EXPERIENCE OF REALITY. SHE WEAVES, BRAIDS AND MANIPULATES ENERGY AS A TEACHER AND DESCIPLE; PROPHETESS AND GODDESS, INVOKING AND EVOKING LIGHT, PEACE, KNOWLEDGE AND SPIRIT IN WITH WORLD IN WHICH SHE LIVES.

SHE MAKES HERSELF HAPPY BY USING HER BODY. HER FAMILY AND THEIR INTERACTIONS BRING HER JOY. SHE IS HAPPY WHEN SHE USES HER FACE, HER ARMS, HER LIPS, HER EYES. SHE'S HAPPY WHEN ENERGY IS CONDUCTED AND EXCHANGED; WHEN SHE IS ABLE TO DISTRIBUTE IT THROUGHOUT THE WORLD. SHE MAKES HERSELF HAPPY EXISTING IN THE ABSTRACT; IN THE REALM OF THE FREAK; IN THE WILDERNESS. SHE MAKES HERSELF HAPPY BY TESTING THE LIMITS OF SOCIETY AND HERSELF AND ALLOWING EXPERIENCE TO PERMEATE HER FULLY.

SHE IS IN DIRECT CONTROL OF HER HAPPINESS. SHE IS THE SOLE PROVIDER OF HER OWN SELF-GRATIFICATION WHILE AWARE AND MINDFUL OF THOSE AROUND HER. SHE SUSTAINS HER LIGHT BY LIVING SUSTAINABLY. SHE IS PERPETUALLY GROWING TO LOVE AND HONOR HER TRUE SELF AND GIVE BLESSINGS TO PAST, PRESENT AND FUTURE, ALL AS ONE.

SHE IS FOCUSED ON HER INNER LIGHT. HER LIGHT IS A FIRE THAT BURNS WITHIN HER AS IT DOES IN HER ANCESTORS AND HER HEIRS. IT IS A FIRE OF PURPOSE, REASON AND ORDER IN PERFECT CHAOS THAT FINDS ITS WAY INTO THE MAKEUP SHE WEARS, THE WAY SHE COMBS HER HAIR, THE GAIT OF HER STEP, AND THE LAUGHTER IN HER VOICE. IT IS THE ESSENTIAL IDENTIFICATION OF HERSELF AS A BEING BEYOND A BEING; A STORY; A SONG.AT EVERY WAKING MOMENT THAT LIGHT INEVITABLY SPEAKS AS A LANGUAGE OF MOVEMENT, COMMUNICATION AND CHANCE. A TWIST OF HAIR; THE EDGE OF A DRESS; A PAINTED EYE BROW; RESPIRATION, REPLICATION, ELIMINATION; ALL SHINE. EVERYTHING AROUND HER LIVES IN LIGHT.

SHE NEEDS AN AUDIENCE TO REMIND HERSELF THAT SHE IS HUMAN. SHE NEEDS AN AUDIENCE TO REFLECT THE ENERGY SHE HAS NATURALLY BEEN GIFTED, AND CHANNEL IT FORTH INTO THE UNIVERSE. THE AUDIENCE CARRIES TO HER THE ABUNDANCE OF THE WORLD: LOVE, WEALTH, DISCOURSE, AND ENERGETIC COMMUNION. SHE NEEDS AN AUDIENCE OF THE SANE AND INSANE TO SHOW HER A REFLECTION OF WHO SHE TRULY IS.

HER ROLE AS A SEEKER AND CHANGER PLACES HER IN A CONSTANT STATE OF MOTION. HER VOICE, HER BODY, MIND AND BREATH ACT AS TOOLS OF CONVERSION; FOSTERING SYSTEMS OF FREE COMMUNION TO REPLACE SYSTEMS OF CONTROL. SHE EMBRACES AND ENCOMPASSES A SPECTRUM OF EXPERIENCE: GORGEOUS, GROTESQUE, MUNDANE, DYNAMIC, FLEETING AND ANCIENT AND ETERNAL. SHE TRANSMOGRIFIES EACH DAY WITH HER DAILY DECISIONS AND DRESS; WHAT SHE READS AND HOW SHE SPEAKS. EVERYTHING SHE IS PERPETUALLY CREATES NEW VIBRATIONS AND WAYS OF TRANSHUMAN LIVING.

AS A FAMILY WE ARE POWERFUL. SELF-UNITY, UNITY WITHIN OUR VARIOUS CIRCLES AND UNITY WITHIN THE WORLD AT LARGE AND THE UNIVERSAL FUNCTIONS OF DREAMS, BREATH AND REALITY, ARE TRANSGRESSIVE AND POWERFUL. WE KNOW THAT TO MOVE COLLECTIVELY INTO THE FUTURE WE SEE, LIVE AND BREATH, WE MUST DEMONSTRATE AND SUSTAIN LOVE AND COMMUNION, IN THE PURSUIT OF A GLOBAL ESTABLISHMENT OF PHYSICAL AND SPIRITUAL FREEDOM THAT HONORS AND NOURISHES ALL LIFE. WE ARE A COVEN, A SISTERHOOD AND A FAMILY; REACHING ACROSS OUR DIFFERENCES AND VIBRATIONAL DISSONANCE TO FOCUS ON THE GREATEST EXPRESSION OF LOVE ENERGY. WE RATIFY AND EXIST AS A CONNECTION BETWEEN EVERY HUMAN TO CELEBRATE, SHARE, SEEK AND LEARN WITH EVERY BREATH, MOVEMENT, ACTION AND INTENT. WE REFLECT AND TRANSMUTE OURSELVES, EACH OTHER AND ONE ANOTHER, CONSTANTLY REFLECTING AND GROWING, SUSTAINING LIGHT FROM THE INDIVIDUAL, TO THE FAMILY, GLOBAL SPIRITUAL COMMUNITY AND BEYOND.

HOW DOES SHE MAKE HERSELF HAPPY?

HOW DOES SHE RADIATE AS AN INDIVIDUAL AND PART OF A WHOLE?"

Read more from AQNB.